97% of B2B marketers who use social media also use LinkedIn for content marketing. That's according to the Content Marketing Institute's latest B2B benchmark report. Content marketing as a whole works very well for B2B companies. Why? Because your B2B customers are people too. They have questions about the products they're choosing to buy and sell, and they want to know the people they're buying from.
Using LinkedIn for content marketing for your wholesale business is a particularly good move. Marketers find it 277% more effective for lead generation than other platforms. Yes, more effective than Facebook and Twitter.
The key, though, isn't going on LinkedIn and throwing around links to your website. You have to create valuable content if you want to successfully market your wholesale business on LinkedIn. In today's post we look at the best practices for LinkedIn content. You may be surprised at all of the ways you can use LinkedIn to market your business.
LinkedIn Text Posts
Text posts are the easiest and most basic type of posts. A quick scroll through your LinkedIn feed will show you that they're easy to ignore as well. You've got up to 1,300 characters, so what can you do to make your LinkedIn text posts stand out?
Lead with a Question
In an article called "Want to Know What Your Brain Does When It Hears a Question?", David Hoffeld wrote that:
"Questions trigger a mental reflex known as 'instinctive elaboration.' When a question is posed, it takes over the brain's thought process. And when your brain is thinking about the answer to a question, it can't contemplate anything else. "
This means your brain actually tries to answer any question it comes across, including those you see in your LinkedIn feed. But why should the question come first?
You should lead with a question in a LinkedIn post because you have only a couple of lines to hook someone. LinkedIn truncates your posts, so you had better interest your connections quickly. If they're hooked, they'll click the "see more" button.
Use Emojis
It might not suit your style, but emojis are more than smiley faces these days. There are emojis for food, animals, common items, and symbols. Emojis add pops of color to your post (a key reason to use them). Take a look at this example of a real LinkedIn post making use of emojis to stand out from the crowd. It also poses a question first, grabbing the attention of anyone with an opinion about the subject. 
It clearly targets an audience segment: people who use SEO tools. Eye-popping emojis to use include:
❓ This question mark is red, which makes it stand out against LinkedIn's gray background. It plays off the brain's desire to answer questions. You wave a big question flag when you use this symbol.
✖ If you're writing a post of things people shouldn't do, then this red "x" is great to place before your points.
✔ Writing a post about things people should do? Use this green checkmark to highlight your points. LinkedIn won't let you use bullet points in your, but using emojis like these definitely, serve that purpose.
$£€ LinkedIn is about business. Business often relates to money. If you're talking about money, increasing profits, or your rates/prices, then these currency symbols may come in handy.
If you're typing your LinkedIn post on your phone, as many of us do, you can select emojis from the many available on phones. If you're on a computer, your word-processing software (Microsoft Word or Google Docs) will let you insert basic special characters that you can then copy over to LinkedIn.
Photo Posts
Photos easily catch the eye of LinkedIn connections scrolling through their feeds. Oftentimes, when they won't stop for a text-only post, they will stop for a photo. How you edit your photos will increase your chances of getting engagement.
As we learned in the point above, questions are powerful. We've all heard the saying that "a picture is worth 1,000 words." So, what if you edit your photos to include compelling questions or statements? That's sure to stop your connections in their scrolling tracks.
Not everyone in your connections list is an ideal customer for you. However, when you create compelling and targeted visual content, it stands out to those who are.
If you include an image in your post, your connections are two times more likely to comment. There are a lot of ways to generate conversation around your business. The key is to be relatable.
If you're considering upgrading to a new inventory management system for your automotive parts business, then ask your connections if they have any recommendations. Even something basic like asking about a new task management system can be enough to start a lot of conversations with your connections.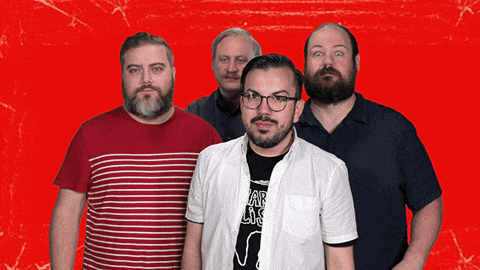 Caption: Upgrade your photos to gif files and really catch your connections' eyes. This gif paired with a request for recommendations would qualify as a great post.
You don't have to keep it all business. Sometimes sharing something more general like an image with an inspirational quote can start insightful conversations too. An example of this is Forbes' quote of the day:
This is an inspirational quote that is still related to business in general. You can take thought-provoking quotes that mean something to many people and write a post about what they mean to you. You can take opportunities to talk about your industry, your business, and your professional experiences.
Video Posts
Video is the new big thing on LinkedIn, even though many don't know exactly how they should use it. LinkedIn has native video capability, so like Facebook you can upload video directly to the platform. This doesn't always work in your favor if you have other places you would like that video to live.
If you create an instructional video, you may want to upload it to your company's YouTube channel as well. It seems logical to upload the video to YouTube and share the link on LinkedIn. That may restrict the number of views you get on LinkedIn.
LinkedIn wants to keep users on their site, so that is why you see so many posts that talk about a new blog post, podcast episode, or video, and then say "Link in the comments." If you can, you want to upload the video onto LinkedIn as well.
Most people scroll through social media with their phones set to silent. So if you want them to understand what's happening in your video, you should include captions.
Before last summer , you needed to use video editing software to put the caption onto your video. Now, though, you can upload what's called an SRT file when you upload your video, as long as you're using a desktop computer.
How can you use video?
Offer a tour of your office
Introduce the people behind all of the things happening at your company
Informally recognize individuals (or even wish them a happy birthday!)
Provide educational information on a topic that's related to your product offerings
Keep an eye on your own LinkedIn feed. You may be inspired by one of your own connections' use of video.
Articles on LinkedIn Pulse
In February 2014, LinkedIn opened up Pulse to everyone. Pulse is LinkedIn's content publishing platform. If you don't have the use of your company's website for content marketing, you should consider using LinkedIn Pulse website .
Caption: Right beneath your option to write a regular LinkedIn post, you have the option to write an article instead.
Even if you can't blog directly on your company's website for some reason, you likely have a list of customers or potential customers whom you email for marketing purposes. Don't be afraid to write an article about something that would help your customers.
Writing purely educational content you can then promote to your email list is a win for everyone. Your customers and prospects get a chance to view your company as human, through you. You get a chance to showcase your company's expertise and your brand's values.
Companies can also syndicate content from their websites onto LinkedIn Pulse. With content syndication, it's generally recommended that you post only your highest-performing content on other channels besides your website.
Where Do LinkedIn Articles Appear?
LinkedIn Pulse articles seem a bit hidden on the platform. Since LinkedIn blended Pulse with it's primary platform, it isn't as easy to find the articles. The easiest way to find articles by someone you know is to go to their profile. If you scroll down to their Activity section, you'll see their latest article on the left.
Wait, What's the Difference Between a LinkedIn Article and a LinkedIn Post?
There are some technical difference between a LinkedIn article and a LinkedIn post. Their purposes differ as well.
| | | |
| --- | --- | --- |
| | LinkedIn Article | LinkedIn Post |
| Character Limit | 110,000 | 1,300 |
| SEO Potential | Yes | No |
| Formatting | Yes | No |
A LinkedIn post is more like a status update. Many people post every day, and most try to post at least 3 times per week. A LinkedIn article is like a blog post. You give it a title, you can add images throughout the post, and do a lot of formatting that you can't do with a LinkedIn post. LinkedIn articles will also show up in search engine results, whereas posts do not.
As you saw in the video above, your latest article gets a prime spot of promotion on your profile page as well.
When you write a LinkedIn article, you need to give the topic as much consideration as you would a blog post topic. A LinkedIn post can be 1,300 characters, but of course that's not a requirement.
The Best LinkedIn Articles Have Certain Things in Common
You may remember reading up above that it's recommended to use questions to start your posts. That's true, but the data shows that question titles for your articles just don't perform as well.
Some publishers use Pulse as an opportunity to dump a link back to their website. You don't want to do this. If someone clicks to read your LinkedIn article, they're going to be disappointed to see you've included only the first paragraph of your newest company blog with a link.
There's nothing wrong with posting part of your article in a bid to get visitors back to your site. However, you should post at least 1,000 words before you try to get them to click over. In this 1,000 words, give them wonderful content so they're eager to see what else you have to offer.
Slideshows and SlideShare
When was the last time you created a slideshow presentation? Probably not too long ago, right? You can publish slideshows on LinkedIn as well using LinkedIn SlideShare. SlideShare is one of the best places to amplify your reach.
There are more than 60 million SlideShare visitors per month, and like Pulse, SlideShare content shows up in Google search results. For searchers looking for a quick answer, a slideshow may be just the ticket. Over 70% of SlideShare visitors come from organic search, which makes them high-quality leads for your business.
SlideShare gets 5x more traffic than any other social media platform. So if you want to use content marketing to connect with business owners, SlideShare should be a part of your strategy.
Getting Started on SlideShare
You might be wondering where SlideShare is on LinkedIn. Well, you can definitely search for it on Google, but you can access it from the menu in the upper right-hand corner on LinkedIn.
SlideShare is a woefully underused platform, which is good news for you. The human mind processes visual input faster (.25 seconds) than text. That's not to say your written content is worthless. However, you can illustrate your point with images, and guide your readers' understanding through well-placed images.
25% of SlideShare's readers are accessing the platform on mobile devices. Be sure you take this mobile traffic into account when you publish to SlideShare. You don't want your text so small that your readers can't easily see it.
Creating LinkedIn Content Can Help You Market Your Wholesale Business
Much like other types of online content, like blog posts, SlideShare and LinkedIn articles extend your reach and generate views over time. Creating content like this is kind of like leaving a breadcrumb trail on the Internet back to your website.
Remember, LinkedIn is used by decision-makers who come to LinkedIn in a business mindset. They want to make real connections with real people just like you. You just have to create content that speaks to your target customers.
New to LinkedIn? Be sure to check out our other two articles in this series:
Get Your Wholesale Business Set-up on LinkedIn